UP Lantern Parade 2007
UP Lantern Parade 2007
The Webcast: A Short Story
I should have one of the best views of this year's UP Lantern Parade since as I've said in the last post, I am webcasting the event. However, people managed to take a post in front of the stage where we are stationed, and blocked almost 90% of our view. My only consolation is that we can kick people or ask them to sit down at least a few yards on both sides of the camera, which we have to do frequently. That explains my short live web appearance. I only noticed after two friends sent me sms telling I'm on cam.
I really pray that the webcast turned out good anyway. The emac's a bit slow, the sound's a bit patchy at the start, and the camera shot's are a bit darker than usual, and we had a few hours notice. We can't even find a longer DVI cable so we can hook up to the camera on the stand. Even worse, i failed to record the broadcast, my bad. Too many things have gone wrong. But we still delivered. I hope more people can watch the webcast in the coming years.
The Lanterns: Main Course
Now on to the happy part. I enjoyed this year's parade immensely, perhaps due to two things, (1) i'm aware that it could be my last, (2) last year's Lantern was cancelled. So this time it's all worth it. Honestly, this is the very first lantern i finished (and i planned to do so even if i didn't cover it), my 2nd to ever watch. The first was in 2004, where i also thought it would be my last. It was, but as an undergrad.
This year's Lantern Parade is totally a blast. The lanterns presented are works of art. As a proud product of the College of Eng'g, i'm proud to say w/o bias (alright, maybe a little) that i loved their lantern. It's a depiction of the well-known Sundial behind our office building (DILC). The Eng'g students/faculty support was at full force. Of course, Fine Arts as always delivered its best.
Here are some shots i took, as I was holding my camera phone on the left hand, steering the video cam on the right (for webcast), and the Canon Powershot hanging on my side.
Early on in the program, these are the lanterns of College of Law, Education, and NISMED.
My personal fave, the College of Engineering.
Other participants: Asian Center(?), Solair, and Tourism. I have no decent shots of other Colleges (assuming these are decent enough for public viewing).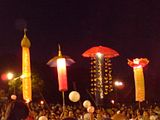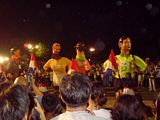 The perennial winner (so disqualified na ngayon :D), and uncontestedly the best of the night, College of Fine Arts. Sobrang cute ni Oble!!! Hahaha!
The night ended with a fireworks display.


Finally, this one is a shot of a kid in a nice pink/fuschia straw hat. He was standing right in front of the camera, but he's small so it's alright.


—
Btw, we (Faith, Nina, Tin, and I) had a very cute shot taken by the cameraman standing right next to our videocam. I so badly want a copy, but i was too shy to ask.